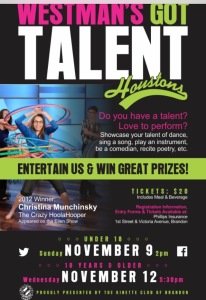 Westman's Got Talent is returning to Brandon!
The Kinette Club of Brandon are proud to present Westman's Got Talent at Houston's Country Roadhouse!
There will be 2 separate shows, one on November 9th for under 18 performers, and one on November 19, for performers over 18. There are great prizes to be won, and the talent we have seen in past years has been amazing!
With the change in location, the Kinettes are able to make a small change to the programme, and are also hosting a bud, Spud and Steak! This is a great opportunity to have a meal out, and get entertained at the same time.
Entry forms are available at Phillips Insurance, 510 1st Street Brandon, and tickets for the shows are also available for $20 each.
Entry deadline for contestants is November 3, the shows look like they are going to be fantastic, so enter early.